| | |
| --- | --- |
| General Meeting Reports for 2015 | |
| | | |
| --- | --- | --- |
| December 2015 | | Annual DIY Night |
The showcase of DIY projects presented included a Class D amp based on the Eastern Audio Technologies T4 amp module, producing 180w/ch into 8 ohms, pre & power amp combo with Mosfets rated at 100w, derived from a David Tilbrook design. The speakers for the night shareed the same, family when it comes to implementation. Both pairs were Three Way Dipole setup, one pair using a ribbon tweeter with Peerless drivers, the other a trio of Vifa drivers per panel.
All three systems were played before the coffee break with each system having an allotted time of no more than 30 minutes. Each presenter explained their gear and played some music.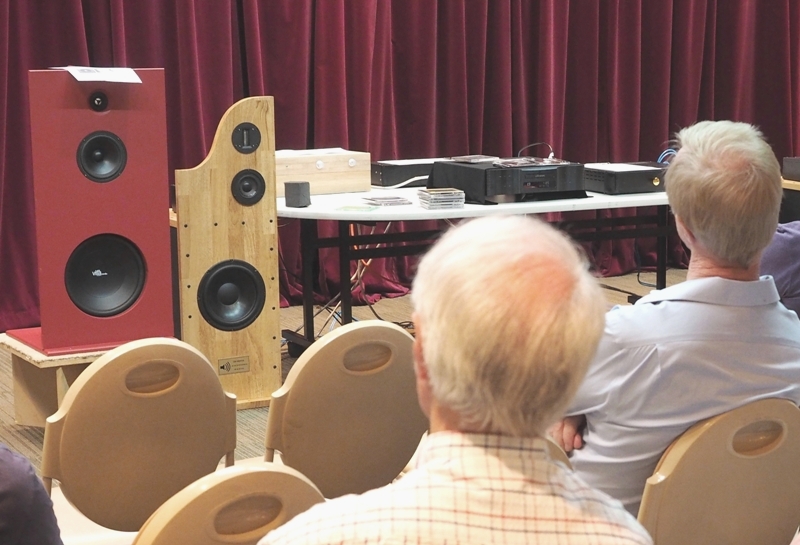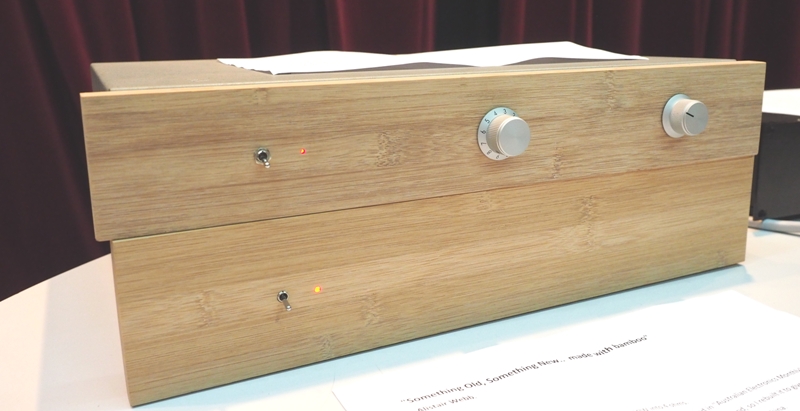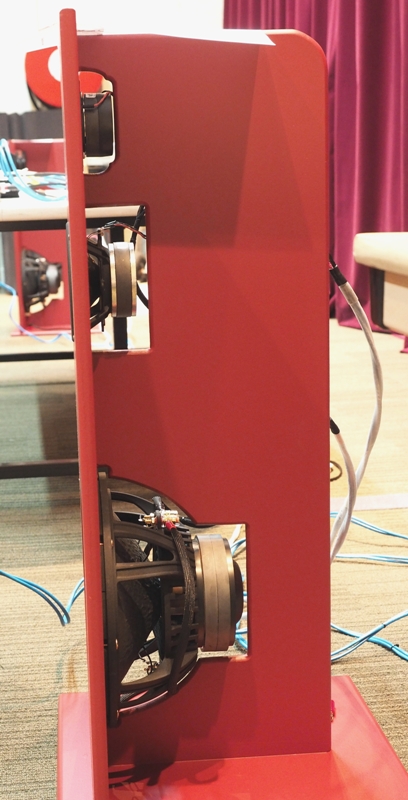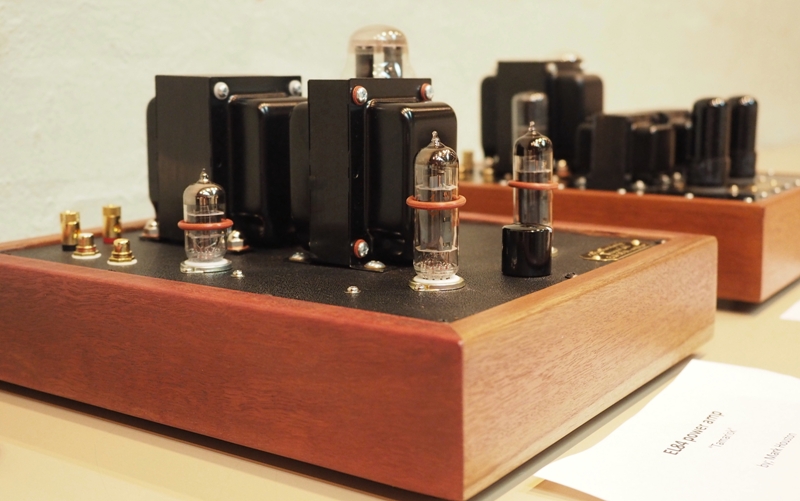 | | | |
| --- | --- | --- |
| November 2015 | | Rockian and Osborn |
Once again the month of November arrived and our regular presenters for this month, Ian and Beverley from Rockian Trading and Greg from Osborn speakers, introduced their products. Stocking a selection of high quality vinyl records and CD's from Mobile Fidelity, Chesky and Stockfisch Records, Bev had her bazaar set-up for eager MAC members to purchase some bargains. Greg Osborn provided the equipment for the night.
The hi fi system comprised...
Audio Aero La Source-CD/SACD player and Digital Music Centre,
AM Audio RT-2 Pre Amp,
The New AM Audio 833m Mono Amps, this is a smaller, more manageable version of the flagship four box 833s amplifier. Using the amazing 833 valve in pure Class A, Single Ended configuration, they put out an impressive 140w/Ch.
Osborn Epitome Towers: Second from the top in the range, these speakers stand just over 1.5mts tall and accommodate two 10inch bass drivers.
Nick Karayanis
Proxy proxy Program Co-ordinator / Vice President

Ian Hooper reports:
As on previous occasions, we are indebted to the Osborns for supplying a pair of wonderful speakers, amplifiers and a player to use to demonstrate some key releases and we have sold and discoveries we have made in the last year.
As usual Beverley will have a comprehensive selection of recordings for sale to MAC members at special prices. Some particular bargains will be presented from labels that have left Rockian Trading or ceased regular production. In the last eighteen months we have endured a number of both personal and business bereavements when the two people we regard as the most influential pioneers of audiophile recordings passed-away.
In April 2015, Doug Sax, the pioneer of direct-to-disc recordings at Sheffield Lab succumbed to cancer. His recordings were the first to bring the extended dynamic range and impressive transient capabilities of direct-to-disc LP to the audio enthusiast with releases like Dave Grusin's "Discovered Again" and the Thelma Houston & Pressure Cooker release "I've Got The Music in Me." In July 2015, Stan Ricker, the engineer who developed half-speed mastering for Mobile Fidelity was the victim of a fatal stroke. Ricker was responsible for releasing some of the most collectible LPs in history, like Pink Floyd's "Dark Side of the Moon" and albums by The Doors, Steely Dan, The Beatles, The Rolling Stones and others.
In March this year Rockian Trading parted company with Sono-Luminus, the label that absorbed Dorian Recordings in July 2005 when Dorian had funding problems and declared Chapter 11. Because Dorian Recordings was the foundation we built our business on in 1989 we registered the Dorian logo as an Australian Trade Mark. (With the written permission of the Dorian partners in 1989.) Since we owned the trademark, the new CEO of Sono-Luminus was prevented from issuing Rockian Trading with a summary dismissal, and they were persuaded to a negotiated separation. Sono-Luminus agreed to purchase the trademark and a substantial amount of our stock of Dorian Recordings and Sono-Luminus CDs. However, we still have an extensive range of "demo" CDs, now for sale at a price that covers some of the freight costs for import.
Rockian Trading still markets mainstream labels like ATMA Classique, Cala Records and Linn Records through stores like Thomas Records and the Readings Books and Music stores. We also continue to provide audiophile labels like Mobile Fidelity, Chesky Records and Stockfisch Records to specialist stores like Quality Records in Malvern, Greville Records in Prahran and Burwood Music Centre, as well as to hi-fi stores like Tivoli Hi Fi in Hawthorn and HiFi Exchange in Nunawading.
Most of our recent orders from Mobile Fidelity have been exclusively LPs and our latest "big seller" is the double 45rpm box of "Kind of Blue" from Miles Davis. "We are promoting this as the best sounding version of the all-time biggest selling jazz album?"
I intend playing a couple of landmark tracks to remind us of Stan Ricker and Doug Sax, including Dark Side of the Moon. I will also play a couple of related recent tracks that are available in hi-resolution formats on local releases. As usual I will also play a selection of the outstanding and interesting releases from labels like Mobile Fidelity, Chesky Records, Reference Recordings, Cala Records, NMC Records, Sono-Luminus and ATMA Classique.
Ian Hooper - Rockian Trading
Notes
Doug Sax (April 26, 1936 - April 2, 2015) cancer
Stan Ricker (December 14, 1935 - July 14, 2015) stroke
Born: Stanley Dunbar Forbes III (mother later married George Noble Ricker)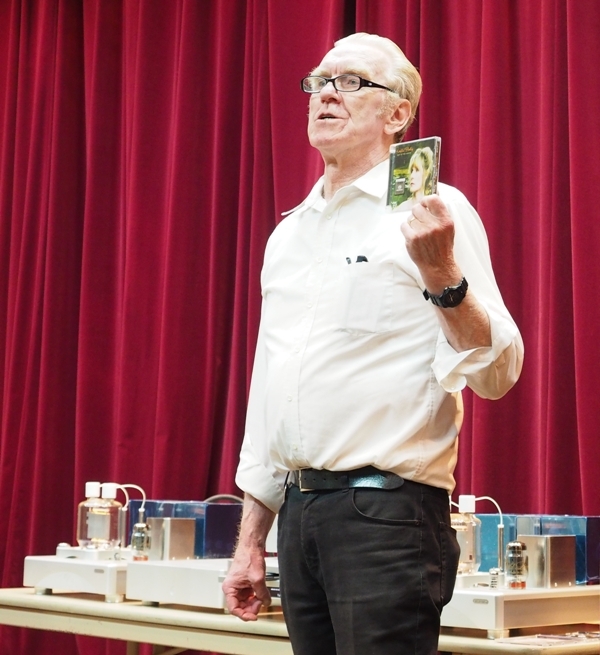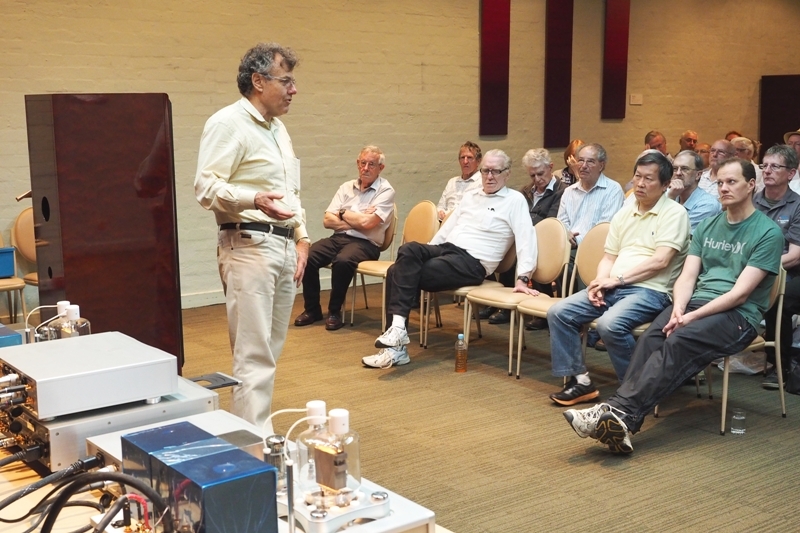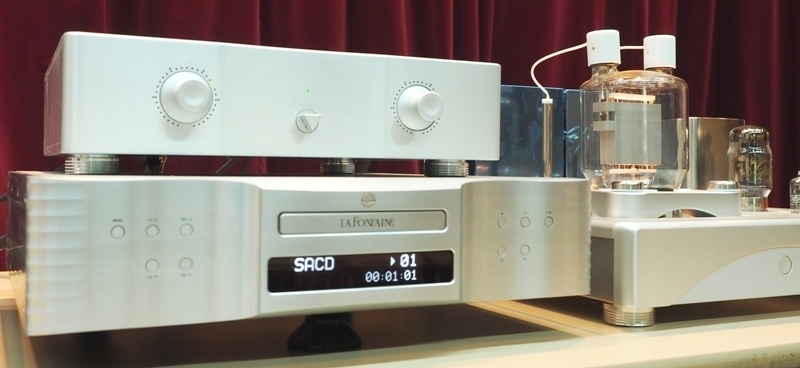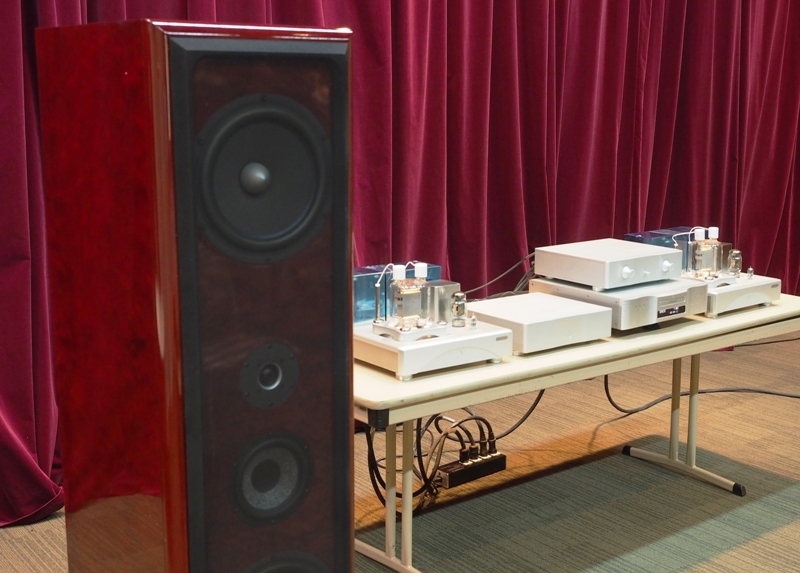 In the October MAN our Program Coordinator, Nick Karayanis announced Convoy will put together a system comprising of B&W speakers, a pair of CM6 S2s and the matching 10 inch subwoofer. The Bluesound system will demonstrate how mature this form of audio has become the wireless transmission of music was once viewed as a novelty it is now possible to do music over Wi-Fi up to 24-bit/96kHz, better than CD. With the slogan 'Hi-Fi never went away, it just never went wireless' Bluesound will appeal to a new group of audiophiles, will that be you?
So what did you think of the sound on the night? Ignoring all the new fangled good things the system was capable of I simply concentrated on the sound I was hearing from the amplifier (a Class D or if you like 'digital amplifier') and the very nice B&W bookshelf speakers augmented by a B&W sub. I tried various positions in the Willis Room from seated to standing. Each position naturally gave me a different slant on things.
Sometimes I was impressed by the integration of the sub with the bookshelves, sometimes with the accuracy of what I was hearing and sometimes with the soundstage and depth. Did I hear music in the way I hear at it home; naturally not, it's a different environment and different equipment. Did I like what I heard, yes. Was the sound a match for the best systems I have heard in the notorious Willis Room? Yes it had elements of the better ones I have heard.
What about the "new fangled technology" (in the words of one who has trouble keeping up). Yes, very clever technology and similar no doubt to other systems presently available. Am I qualified to compare it to other systems, no? If I had unlimited funds would it find a place in my home?
Yes, it might well be on my short list.
David Duffin
| | | |
| --- | --- | --- |
| September 2015 | | Real Music Real Musicians - The Nexus Project |
It was an evening to remember. Scott Dunbabin. James Wakeling and Serge DeLucio. Three men who happily gave of their time and skills to entertain us, and so to start, we all offer a heartfelt, THANK YOU.
They are a group with an interesting makeup. The bass is forward in the mix, not just a rhythm instrument as is usually the case. They play mostly their own compositions which have been constructed with this unusual instrumentation in mind and whilst they base their music making on improvisation, it is not a free for all. It is not easy to improvise within a structure that can sound as though it never left the melody, a wonderful achievement not managed by many. The happy result is it entertains even those who thought they would not enjoy that sort of music.
Scott, although as he points out is not the leader of the group because there isn't one, does act as unofficial spokesman, probably because he plays the most unusual instrument, and therefore receives the most questions. A double bass that looks like no other, being one that Scott designed and, indeed, made, it is a thing of beauty both to hear and to see. This wonderful instrument is the only one of its kind and can, because of its six string design, play a much wider range of music putting it squarely in the melodic line of music making and not just part of the rhythm section.
James also played a self styled and made guitar, having no body just a frame. The last time they played for us he was able to explain the design principles but we ran out of time for that. Next time is a must because I can't remember the details but it sure sounded good.
Serge's drum kit was very interesting. Apart from the magnificent array of percussion devices the actual kit had changed from the last time. The physical dimensions of the drums were much smaller and he played exclusively with brushes.
As he pointed out, the smaller drums, tuned lower than normal gave them a much softer sound. I noted that this made them integrate with the other instruments and, at no time, did they dominate. This can so easily happen with a regular kit.
Live music is something we believe we are trying to replicate with our beloved Hi-Fi and so, it is always a pleasure to be exposed to the real thing and a wakeup call that we are many upgrades away from achieving, in fact I don't think we ever will.
So boys, thanks again and let's not leave it another three years to enjoy your particular brand of music making.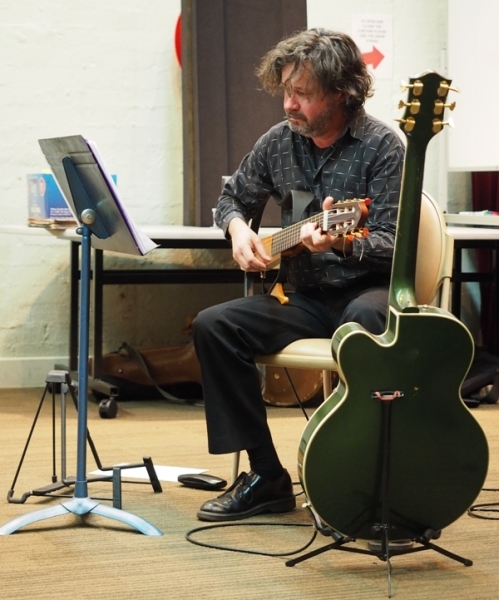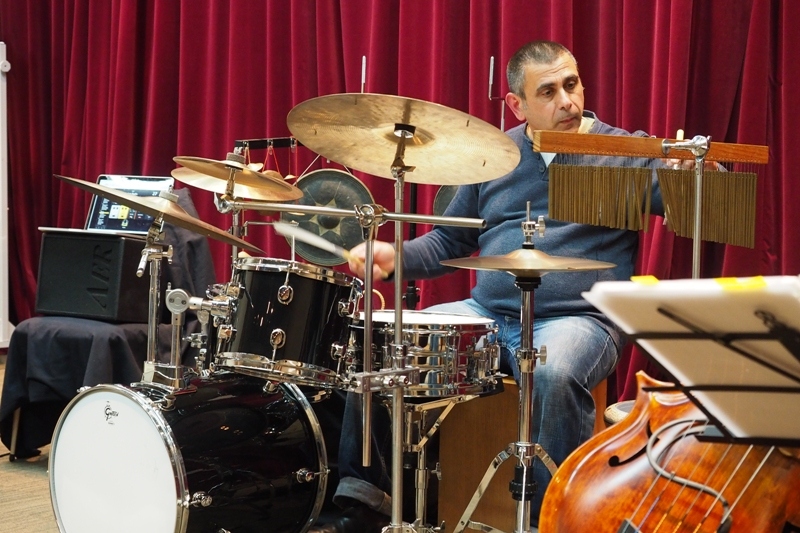 Martin Bray
| | | |
| --- | --- | --- |
| August 2015 | | Ray Goh - The Hi-Fi Exchange |
I wish to thank Ray Goh - the new owner of the Hi Fi Exchange - and John Corneille, for putting together at the last minute, a sound system for the August meeting. It was a good opportunity for Ray to introduce himself to the audio club, and I'm sure all the members appreciated the excellent sound that was achieved.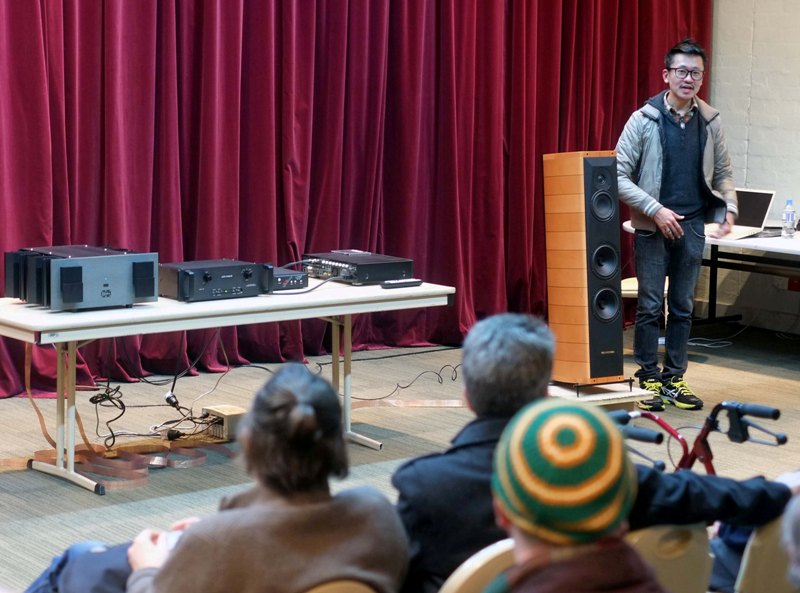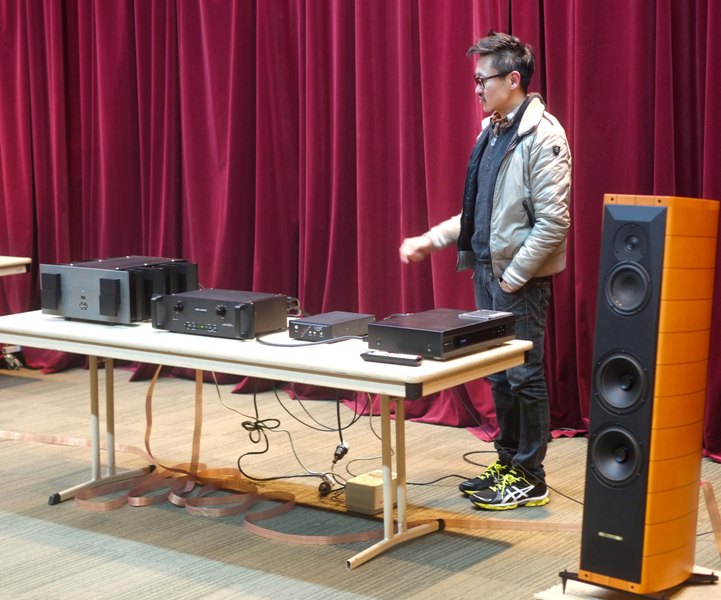 Nick Karayanis
| | | |
| --- | --- | --- |
| July 2015 | | Your Committee presents a Beyma and 300B Music Night |
The new committee presented to the club a selection of music from their favourite CDs. Continuing the theme presented last month at the clubs AGM, Mark provided a High Efficiency Single Driver System for the night:. A Beyma speaker driven by a 300B valve amp.
The Spanish Beyma Company produces a huge range of speakers for the sound reinforcement market, most of them extremely efficient. The speakers are a 12 -inch paper cone surrounding a concentric 2 inch titanium tweeter. The cone section is 98dB efficient and the tweeter is 105dB. The X-overs, 2 kHz, 1st order on bass, 2nd order on tweeter are external and are designed to maximise the speaker's efficiency.
The amp driving the Beymas, the VoXConcentriC, is a 300B SE valve amp rated at 5.8Watts. With the Beymas being so efficient the combo has no problem playing at a good volume. Stereo bass box will assist the bottom end and should play well at the meeting.
The front end partnering the system was the Audio Aero La Fontaine Music Centre, kindly provided by your club president. Mark started the night with a selection of warm-up tracks, then the members of the committee selected the music that was played for the rest of night.
Committee Presented favourite CDs
David D: God save the Tzar. David Hobson, Cheryl Baker
Nick: I wish I could, Norah Jones Cassandra Wilson, unaccompanied piano
Red: Tennesee Ernie Ford The Mission
Paul C: August Julie Stone Down my way (on the road) John Mayer Paper Roll
David B: James Morison, Joe Chindamo, 2 by 2 Perpetuum Mobile, Weber, Geoffrey Tozer
Tony P: Maastricht Salon Orch, Andre Rieu Melodie d'Amour, Kaoma
Peter A: Jessica Williams: Live at Yoshi's Egberto Gismonti & Ralph Towner. Sol do Mio dia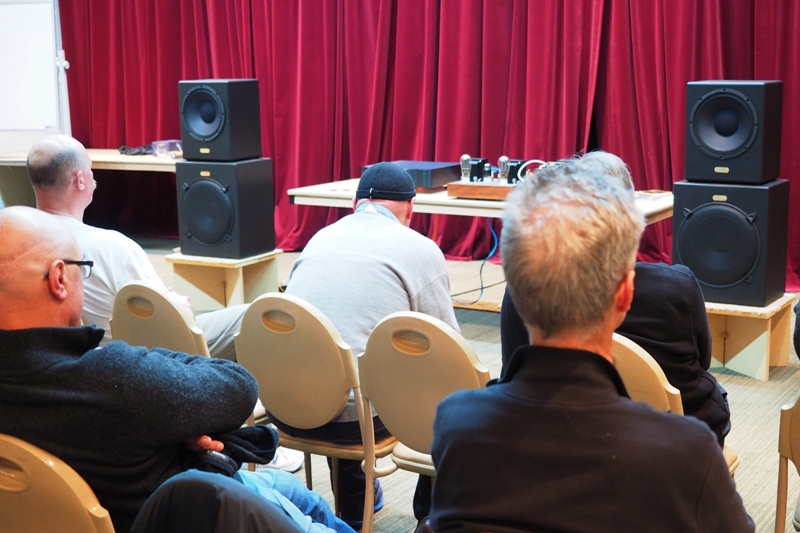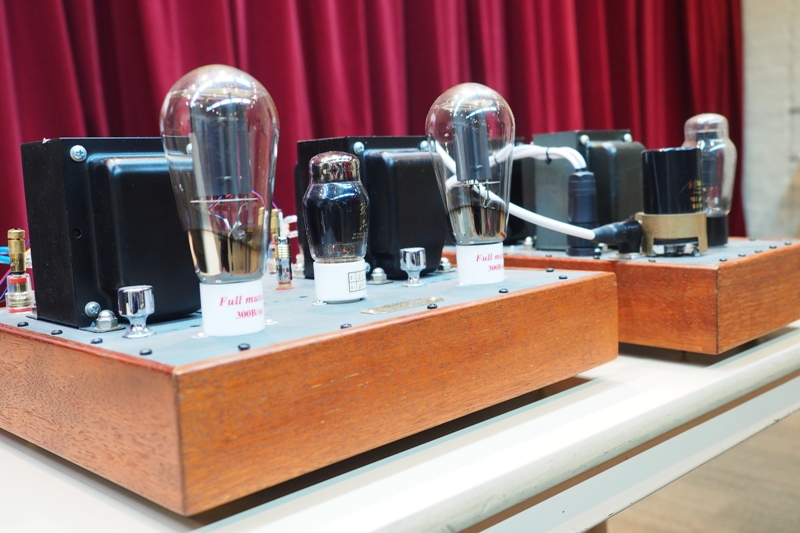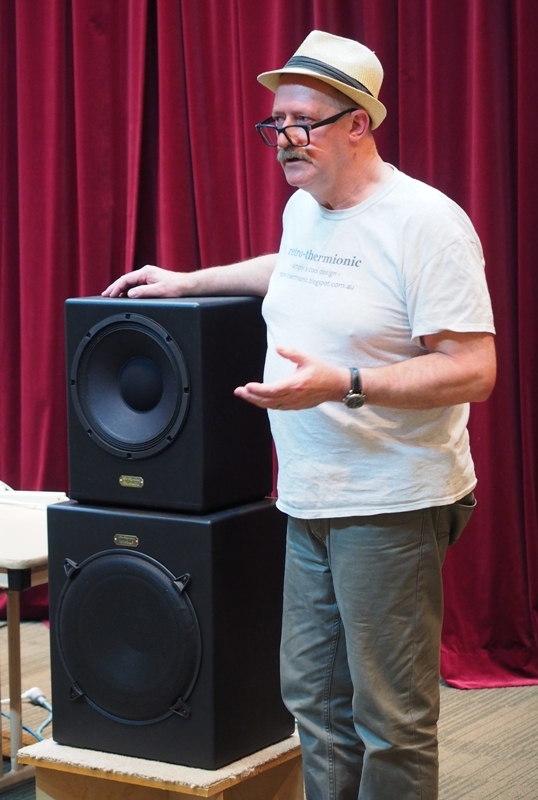 Web Ed.
| | | |
| --- | --- | --- |
| June 2015 | | A Rare and Special Presentation |
This month after the AGM elections, we had a presentation by Ron with his Goodmans Axiom 80 Loudspeakers.
The Axiom 80's are a 10-inch, twin cone full range speaker designed to reproduce bass fundamentals down to 20 Hz and highs out to 20 kHz. The most revolutionary part of design is its free cone suspension, a theoretical ideal that permits the cone to move as a true piston at low frequencies without restriction. Ron has mounted two Axiom 80 drivers in each cabinet, wired in parallel and fitted with a Zobel impedance matching network. Each driver has a sensitivity of 97 dB and a power handling of 6 watts RMS! The speaker cabinets are a Goodmans design fitted with their Acoustical Resistance Units
Considering that Axiom 80's are seen as the holy grail of full range speakers, fetching more than $4000 US dollars on eBay, their unique design - no rubber surround makes them a very rare piece of speaker technology.
The equipment partnering the speakers on the night was also provided by Ron. A big thank you to Red and John who provided the logistic service, as they have done on many occasions.
Playlist...
Chicago the Musical - Overture, & All That Jazz. - CD
Carol Kid - Dreamsville - Nightingale sang in Berkeley Square. - CD
Blues from the Saxophone Club - Falling in Love with Love. - CD
1865. Anonymous 4 - Aura Lea - Listen to the Mocking Bird. - SACD
Live at Smacka's Place - March of the Bobcats. - CD
Dave Grusin - West Side Story - Prologue. - CD
Gerry Mulligan - Soft Lights and sweet Music.- SACD
Horns for The Holidays - Christmas and Sousa. - HDCD
Classic Spectacular - Largo Al Factotum, & Fanfare for the Common Man. - DVD
Carmen: Habanera Fantasia, & Gino O'Auri - Ida.Y.Vuets. - CD
Lotus Dreams - Shucheenyu - Wiegenlied. - CD
Enoch Light - Hernando's Hideaway. - LP
Age of Swing - You're Driving Me Crazy. - LP
Enoch Light - Love and Marriage. - LP

Equipment used...
Oppo 95 Multi Disc player
Hitachi PS-17, DC Turtable
Yamaha R-S 300 Amplifier, 75 watts
Goodmans Axiom 80 Loudspeakers
Web Ed.
| | | |
| --- | --- | --- |
| May 2015 | | Redgum turns Twenty One |
This month we had the pleasure of Ian Robinson and Lindy Gerber from Redgum Audio, who were celebrating their 21st year in the Hi-Fi Industry. To mark their 21st Birthday, Redgum presented to the club their new flagship monoblock amplifier, the "Magnificata". This was the first public demonstration (yes, a world exclusive!) from their newly named Amplifolia range of amplifiers.
The Magnifica has been purpose designed to power ultra-low impedance speakers, and then some more. A few Power Output stats tell the story... Into 8ohms - greater than 350W/ch (Transient Power 500W). Into 4 ohms - greater than 900W/ch (Transient Power 2000W) All the input connectors are hand - wired with OCC single strand, solid core Silver wiring.
Running off these new mono blocks, were Redgums gorgeous looking Regnans Floorstanding Loudspeakers finished off in a high gloss Red Gum wood veneer. The Regnans are a 2.5-way design featuring 2x170mm drivers with a 25mm soft dome tweeter, all sourced from SEAS.
Speaking of source, the front end for the system was Redgums tried and trusted RGCD5ENR CD player, as well as their DAC. In addition a Blue-ray Player for the Hi-Res disc's and files from a laptop to round off the music presentation.
It's been some time, (more than a decade) since we last had Ian and Lindy at a club meeting. With a long and enviable career in the Hi Fi Industry, the evening was an impressive demonstration of well designed Australian audio equipment.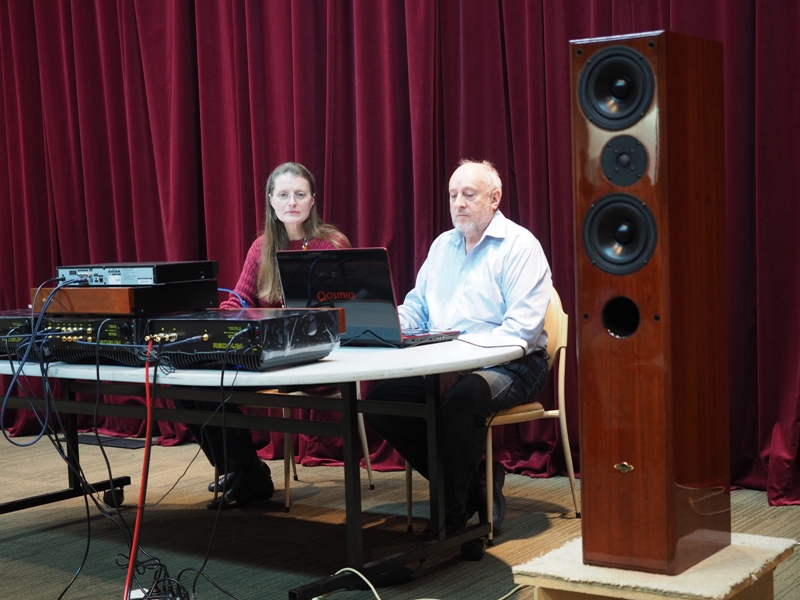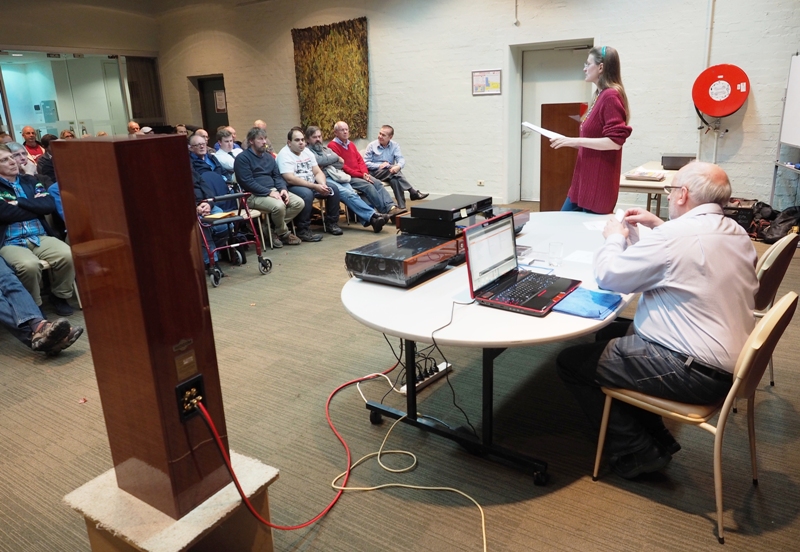 Equipment used...
REDGUM AUDIO SYSTEM
RGCD5ENR CD Player $2999 RGDAC5 - DAC $2490
RGM 300 ENR Mono Block System + Pre Amp $18500
REGNANS - 2.5 way Floor Standing Speakers $5950

Web Ed.
| | | |
| --- | --- | --- |
| April 2015 | | A QualiFi night: NAD, JAMO, PSB |
This month we had the pleasure of QualiFi presenting to the club two hi fi systems. NAD electronics with JAMO speakers and MARANTZ with PSB speakers. These quality brand names will be familiar to most.
System one comprised NAD's flagship electronics, the M12 Digital Preamp DAC with the M22 Stereo Power Amplifier. The M12 isn't a typical DAC and it isn't a typical preamplifier. Built for the future, the M12 is an ultra-high resolution digital audio hub with audiophile grade features. NAD's Direct Digital processing and class-A buffer guarantee real time 24-bit accuracy. The M12 interfaces with all digital or analogue musical sources, 24/192 Asynchronous USB, coaxial or optical, balanced and single ended line level inputs. The matching power amp, the M22 uses the latest nCore amplifier technology licensed from Hypex. Employing the latest generation of digital Power Drive, the M22 is capable of 300W dynamic power per channel into 8 ohms, and 600W into 2 ohms.
Partnering this system was the JAMO's Concert Series speakers, the C 109. This new model was introduced to the Australian market, at the Melbourne Hi Fi Show in October 2014. The C 109 features a 3-way bass reflex design. This floor standing speaker uses two 7-inch woofers, a 7-inch midrange driver and a 1-inch decoupled tweeter. The silk dome tweeter is surrounded with an Anti-Diffraction Waveguide to improve off-axis response. The 7 inch drivers use a Hybrid Composition Conical Cone, providing the stiffness and strength of aluminium, with the transient response and smoothness of wood fibre.
The meeting continued with a second system comprising of Marantz electronics and PSB speakers from Canada.
System One
Marantz CD 6005 $960
Marantz PM 8005 Amp $2340
PSB Imagine XT2 $2399
System Two
NAD Masters Series Components
M50 Digital Music Player $2799
M12 Digital Pre Amp DAC $6199
M22 Power Amp class D $4999
PSB Imagine T2 $4499

TRACKS PLAYED ON SYSTEM NUMBER ONE
Les Nubians - Jazz A Saintgermain - Tr 10 - Virgin France S.A.
Allen Taylor - Old Friends-New Roads - Tr 9: Let me be - Stock Fisch
Henry Mancini Music for Peter Gunn - Tr 1: Peter Gunn Theme - Harmonia
Antonio Vivaldi - Le Quattro Stagioni - Tr 9: Autumn Allegro - Fone.
Mark Knopfler - Sailing to Philadelphia - Tr 6: The last Laugh - Mercury
Peder Af Ugglas - Autumn Shuffle - Tr 3 Autumn Shuffle - Opus 3, SACD
Ben and Ellen Harper - Childhood home - Tr 6: Memories of gold
Schidlof Quartet - The Linn Collection 2000 - Tr 7 - Linn Records
TRACKS PLAYED ON SYSTEM NUMBER TWO
Andrew Pendlebury - Don't Hold Back That Feeling - Tr 7: Trinidad
Jennifer Warnes - The Well - Tr 7: The Panther - Cisco music
This is K2 Sound Various Artists - Tr 14: Harbanera Fantasia from Carmen
The Dave Brubeck Quartet - Time Out - Tr 3: Take Five - Columbia 1997
Eilen Jewel - Letters from Sinners and Strangers - Tr 7: Were They Never say Your Name - Shock Records
Porter Wagoner - Wagon master - Tr 8: Committed to Parkview - Shock Records
Patricia Barber - Modern Cool - Tr 12: Let It Rain- Vamp - Blue Note
Nick Karayanis
CARETAKER Program Co-ordinator

Web Ed.
| | | |
| --- | --- | --- |
| March 2015 | | Bill Woodman from ATC |
This month we were again very fortunate to have Bill Woodman from ATC, a brand that is very well known among recording engineers. He founded the company 40 years ago in Gloucester, building drive units for professional monitor speakers. Audiophiles too would be very familiar with the domestic range of ATC speakers, with numerous reviews in many magazines. The meeting was another coup for the club, with the arrival on the Australian Hi Fi market of ATC's new three way- active-loudspeaker, the SCM 40A.
As with all three way speakers in the ATC line up , the new domestic model is based around the famous 3 inch Soft Domed Mid-Range driver. Now with curved side walls the speaker box has also had a cleanup, eliminating the stepped front baffle. The biggest improvement is the new ATC designed and built Dual Suspension 25mm Soft Domed Tweeter with precision alloy waveguide. To complete the speaker a 164mm bass driver takes care of the lower frequencies. The 3-way design is complemented with a built-in 242 Watt class A/B Tri-Amplifier. The MOSFET based amp, is a modified version of that found in the larger active loudspeakers.
ATC SCM 40A SPECIFICATIONS

Drivers: HF ATC 25mm dual suspension Tweeter, MID 75mm ATC
Soft Dome, LF ATC 164mm
Frequency Response (-6dB): 48Hz - 22kHz
Dispersion: 80 deg Horizontal, 10 deg Vertical
Max SPL: 112dB
Crossover Frequencies: 380Hz & 3.5kHz
Connectors: Male XLR
Input sensitivity: 1Volt


Filters: 4th Order critically damped with phase compensation.
Overload Protection: Active FET momentary gain reduction.
Fault Protection: DC fault protection and thermal trip. Fault indication LED.
Amplifier Output: 150W LF, 60W MF, 32W HF
Cabinet Dimensions (HxWxD): 980x370x344mm.
Weight: 36kg
Price: $16,000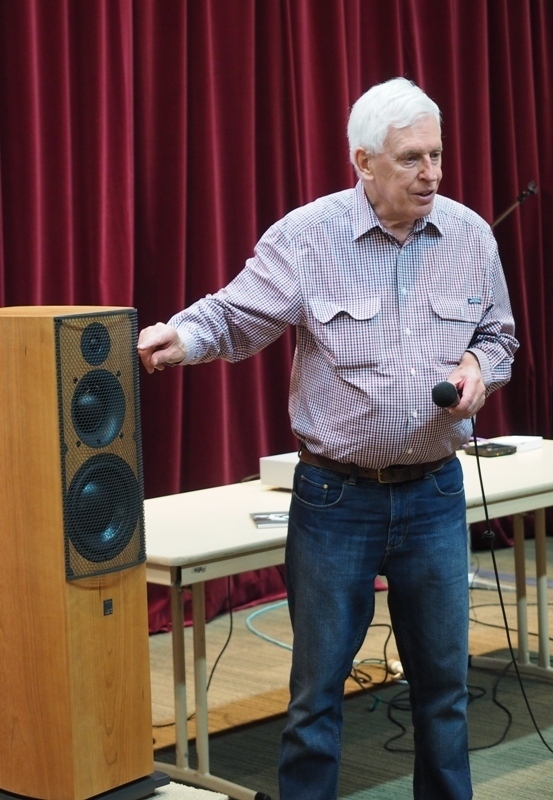 JAG Imports, who supplied the speaker, also provided the audio system for the night. A Linn Klimax DS as the DAC with a NAS drive delivering the music software, controlled with the iPad. Bill Woodman is a legend in loudspeaker circles, his Acoustic Transducer Company continues to expand and gain popularity. Their reputations are on the strength of their products. The combination of power handling, ruggedness and lack of colouration are qualities that make ATC speakers a leading "hi fidelity" product. Who better than the founding director of ATC to introduce to the Melbourne Audio Club a new speaker from their domestic range.
Nick Karayanis
CARETAKER Program Co-ordinator

Web Ed.
| | | |
| --- | --- | --- |
| February 2015 | | Arthur Rappos from Elektra Audio |
The night's programme started off with Arthur talking about his background in Hi Fi, and how his passion for music got him into designing and building audio gear. It was interesting to hear of his design philosophy and approach behind his gear. A sample of his components was on display, the size of the potted transformer for his HD Amplifier looked very impressive.
The system certainly looked the part with all the silver coloured signal cables, and power leads plugged into the cylindrical distribution block . The audio performance on the night was stellar, in teams of clarity and fine detail of resolution. There was none of that digital hash from the system, strings and voices sounded smooth and rich. From my listening position, standing behind the back row of seats, there was a nice weight and depth to the bass. At the price point for the electronics, when it comes to sound, they are a steal.
The evenings playlist...
Track Title Artist Abum
1 Somewhere Over The Rainbow, Melody Gardot, One And Only Thrill
2 Sometimes I Feel Like a Motherless Child, Arne Domerius, Antiphone Blues
3 Come To Find, Doug MacLoed, Come To Find
4 Libertango, Roberto Daris, Piazzolla for Duets
5 Angel Eyes, Frank Sinatra, Only The Lonely
6 Habanera Fantasia, Harold Faberman, Carmen
7 Samba Geladio, Ali Farka Toure, Ali & Toumani
8 These Bones, Fairfield four, I Couldn't Hear Nobody Pray
9 Bergeson Fries, Joe Robinson, Time Jumpin'
10 Clair de Lune, Orchestre A. Caplet, The Very Best of Debussy
11 Golliwogg's Cake Walk, Orchestre A. Caplet, The Very Best of Debussy
12 Little Sister's Boogie, Lightnin Hopkins, Goin' Away
13 Brand New '64 Dodge, Greg Brown, BPT Compilation
14 Wa, Kaissa, Women of the World Acoustic
15 Suspicion Elvis Presley, Best of Elvis
16 Your Love, Keb' Mo', Suitcase
17 You Look Good To Me, Oscar Peterson, We Get Requests
18 Fragile, Cassandra Wilson, Glamoured
19 Tell Ol' Bill, Eric Bibb, High End Edition Vol 8
20 Travelling Song, Johnathan Zwartz, The Sea

Antipodes Audio DX Music Server $8,900
Meitner Audio MA-1 DAC $9,500
Electra Audio PNYX Preamplifier $3,950
Electra Audio Reference HD Amplifier $4,950
Gauder Akustik Vescova Speakers $12,800


Pynx Preamp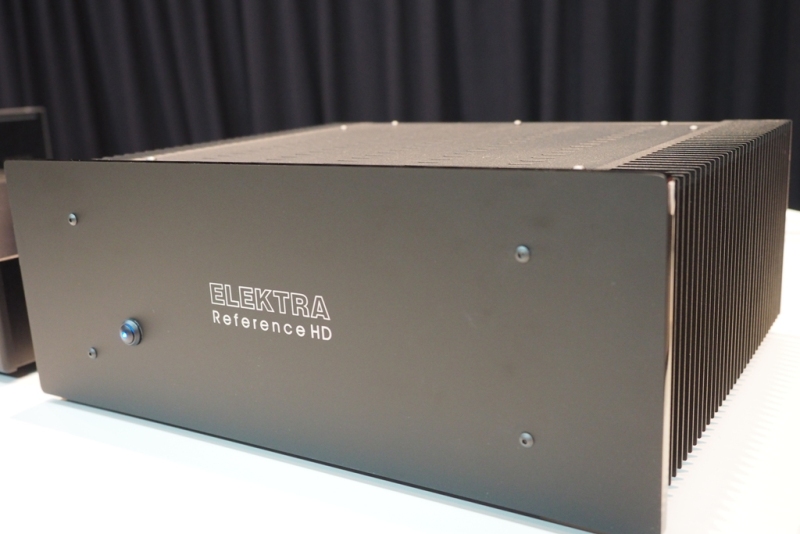 Reference HD Amplifier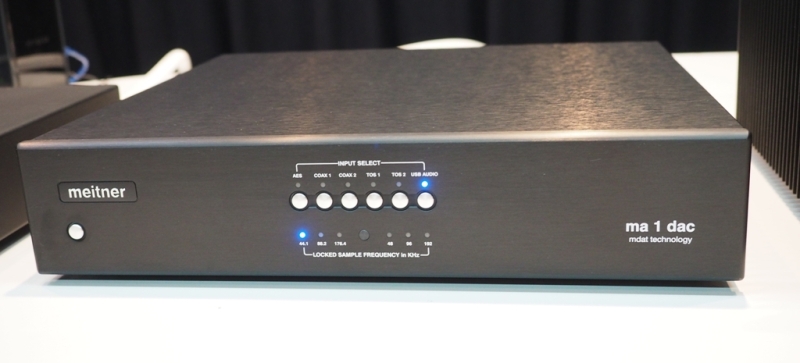 Meitner Audio MA-1 Dac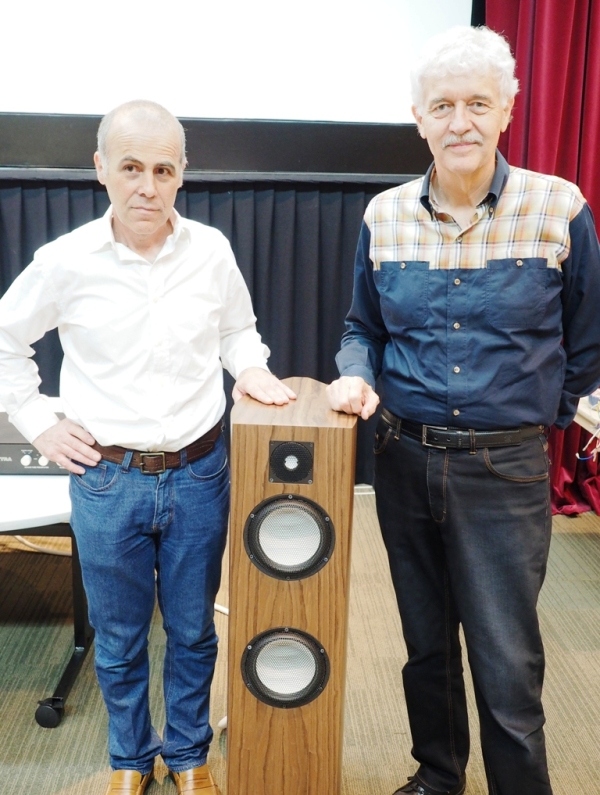 Atrhur Rappos and Warwick Freemantle, with the Gauder Akustik Vescova speaker.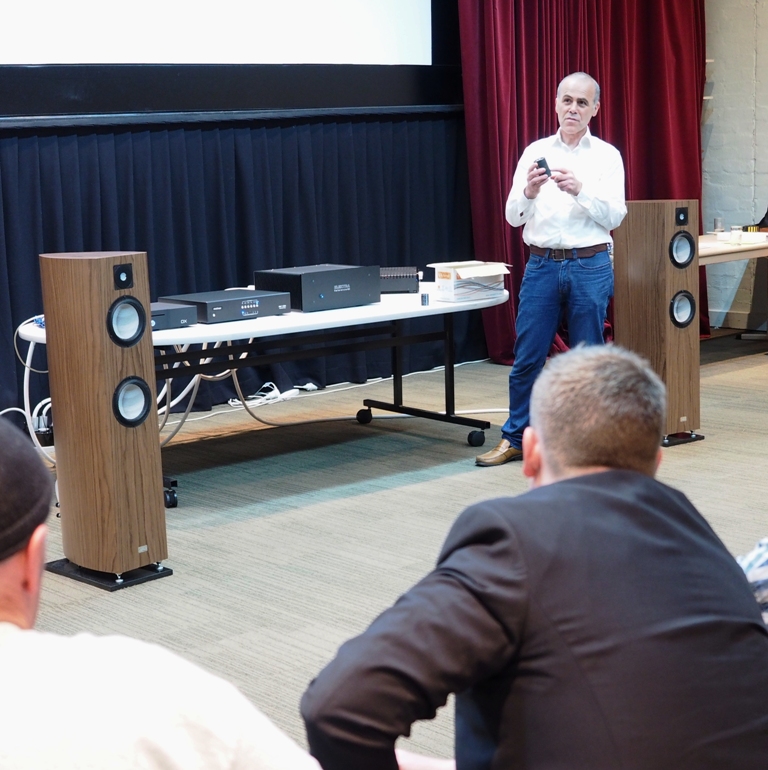 Arthur shows some of the audiophile components he uses in his products.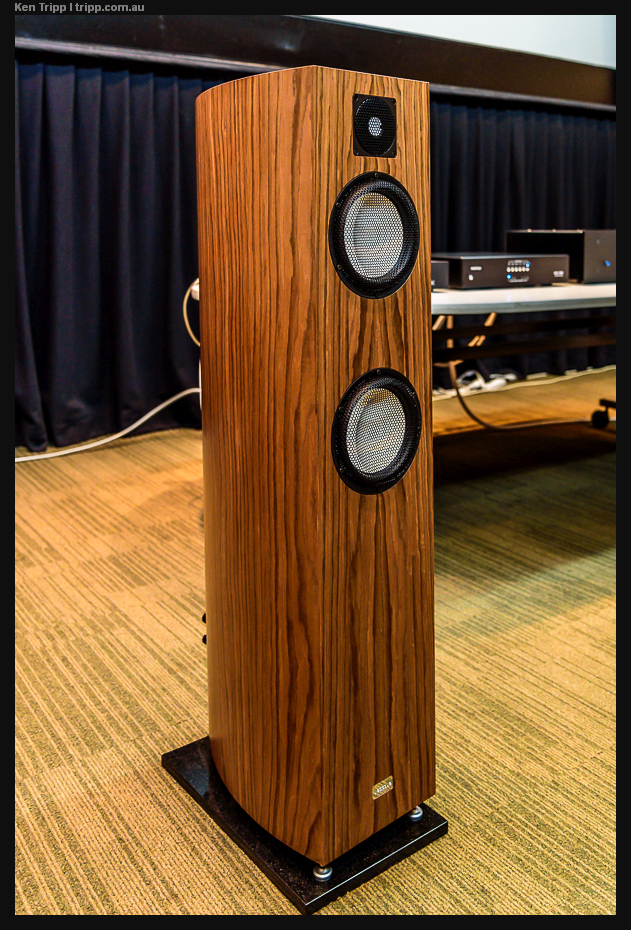 Vescova speakers from Gauder Akustik
Nick Karayanis
CARETAKER Program Co-ordinator

Web Ed.
| | | |
| --- | --- | --- |
| January 2015 | | Buy, Swap and Sell |
Another Buy, Swap and Sell night went well. Pizza and drinks were enjoyed by all.
Web Ed.